Nelson and Rodrigo Pessoa are champions by anyone's standards. Over the years they each have amassed impressive resumes at the highest levels of the sport, including Olympic and Pan-American medals.
Nelson "Neco" Pessoa burst onto the scene in the early 60s, at a time where Brazilian equestrians were primarily military members. His accuracy and impressive technique earned him the nickname "The Wizard," and he continued to amass victories in Brazil and in Europe. With 150 Grand Prix, 100 Puissance and numerous Derby victories, he firmly entrenched himself as one of the premier riders of the era. He only added to his legacy by coaching the brilliant career of his son, Rodrigo.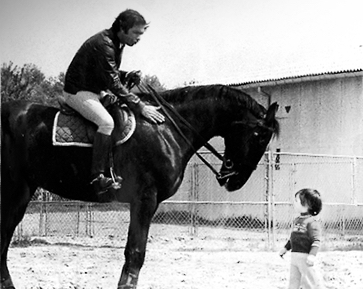 Rodrigo grew up travelling to horse shows with Nelson, and with each trip, his love for the horse and competing grew. Though encouraged to pursue his studies, he knew from an early age he would follow in his father's footsteps. By 16 he was riding in Grand Prixs, and he joined his first Olympic squad – with his father – at 19. He finished in 9th place individually. Since then, Rodrigo's list of impressive achievements has only grown, with multiple World Cup titles (including 3 back-to-back with Baloubet), Olympic squads and top world rankings.
Nelson and Rodrigo are Pessoa®. Out of their extensive training and showing experience has grown a complete line of innovative, competitive tools designed to the exacting standards of professional riders. In a Pessoa® saddle, you neither struggle with your two-point, not suffer in your flatwork. With more than 50 years of savvy and horse sense packed into the design of every model, the heart of a competitor and the soul of a true horseman lives inside each Pessoa® saddle.
"He joined his first Olympic squad – with his father - at 19. He finished
in 9th place individually."